Yoga for Athletes: Find the Balance and Bring Your Cross-Training to Another Level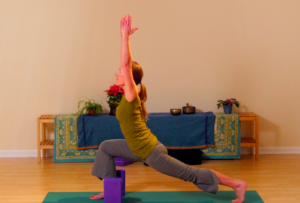 Whether you are training for a marathon or recovering from an injury, you probably are familiar
with your body enough to notice when it's just not right. It might appear as chronic stiffness in
your right shoulder or favoring one leg when standing. Imbalances are something that we all
experience in our bodies and are often highlighted with stress. This knowledge is the first step to
discovering how to gain more freedom and control in your body – congratulate yourself if this is
you. But, just like a politics class, knowledge is useless until you take it to the next level.
The next step is to deconstruct the way you stand, walk, sit, and train becoming familiar with
your postural habits and movement patterns so you can come back to balance. Yoga is a practice,
developed over centuries, to bring awareness of the body to everyday life activities. Working
with specific poses in a mindful way and in progression, you will learn how to activate muscles
more efficiently.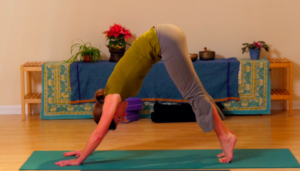 The result is a body that moves more freely, with more power and more focus. According to
researchers at West Virginia University, yoga effectively reduces chronic pain in the lower back
and it may also increase bone density, says Dr. Loren Fishman, Medical Director of Manhattan
Physical Medicine and Rehabilitation. (PubMed; Fishman) With regular yoga practice, you will
gain strength, stability, and mobility, and gain freedom from imbalances in your body.
How to choose a class that's right for you? Though there are many classes offered in which you
will get sweaty they may not be the best way to take your training to the next level. In this day
and age, the practice of yoga is no longer a "one size fit all", why not take advantage of the
experience of a qualified yoga teacher who is also an athlete to guide you in this practice as an
adjunct to your training.
Join Lindy every Thursday night, from 6-7 p.m. for Yoga for Strength and Agility. Each hour-
long class highlights effective building blocks that can be translated into real life. Students work
with their own goals, at their level of ability, challenging themselves in a supportive
environment. In Yoga for Strength and Agility, you will also learn how to expand your breath
and use it to improve your physical activity. This class is accessible for everyone and focuses on
how yoga can be used alongside sports, injury-prevention and recovery.
For more information, visit www.fulllifeyogastudio.com, or contact Lindy at (507)272-1495 or
lindymsexton@gmail.com.
Published in The Union April 2016: http://bit.ly/1VTmi4A
Oops – Moments? Bladder Problems – Incontinence? Yoga Offers Solutions!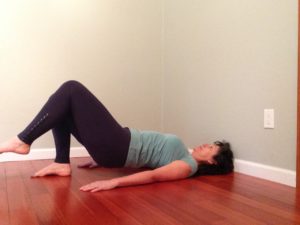 Whether you are a new mom or menopausal woman, leakage can happen at the most embarrassing moments disrupting your life.
A study published in the Journal of American Medical Association, reported that at any given time, 25 percent of all women are coping with some form of pelvic floor disorder including urinary incontinence.
There are two common varieties: leakage triggered by a rise in intra-abdominal pressure, such as sneezing, laughing, or heavy lifting. This is referred to as stress incontinence and often related to  weak (hypotonic) pelvic floor muscles.  The other is leakage due to an overactive bladder. The bladder triggers sudden or too frequent urges to urinate. If it contracts so forcefully that you spurt before reaching the toilet, you have urge incontinence and the pelvic floor muscles are too tight (hypertonic). Other conditions can result from this as well: irritable bowel syndrome, lower-back-pain, painful intercourse, and – in men – prostate problems.
Since it is often hard to know which condition is at the root of the pelvic floor disorder there isn't a one-size-fits-all solution. The Kegel exercises (squeeze – squeeze – squeeze) only strengthen the pelvic floor muscles but you also need to be able to relax them, and not everybody can do that.
For many people the pelvic floor is like a dead zone referred to as "down there". As yoga practitioners we learn to access our pelvic floor through breathing exercises, strengthening movements, and postures that release tension, bringing it back to e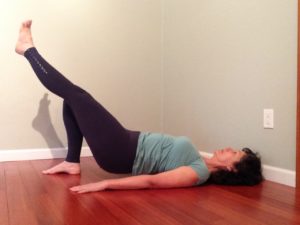 lasticity.  We are able to both contract and release the pelvic floor muscles, giving us a firm balanced pelvic foundation.
We work with the pelvic floor in many different of ways: lying down, sitting, standing, twisting, forward folding, backward bending, and inverting. The yoga practice is like a playground where you learn to use a wide variety of tools in a controlled environment with the goal of being able to use them in your daily living when it really counts. Some examples are when laughing riotously lifting and holding the pelvic floor; lifting a heavy grocery bag: exhale fully and lift the pelvic floor before you lift, and when engaging in other activities that might challenge your bladder control.
Through a regular yoga practice, your oops-moments can be a memory of the past by keeping pelvic floor muscles supple, toned, and elastic. Be proactive now!
Written by Elke Brown
Ref: http://jama.jamanetwork.com/article.aspx?articleid=182572
Ref: http://www.ncbi.nlm.nih.gov/pubmed/?term=Huang+and+Jenny+and+yoga
Yoga For Life and Healthy Aging offers hidden benefits for all!
By Elke Brown, published in the Union
These days yoga and meditation have become household words and are practiced by millions of people worldwide. If you have yet to begin a yoga practice, you might feel intimidated about taking the first step, thinking that you already need to be flexible and strong before you get started. This is a myth and yoga may well be your path to healthy aging and staying engaged with life.
The reality is that there is a style of yoga for every body at any and all ages. Whether you are large or small, flexible or not, young or old, you can practice yoga. The physical benefits of a yoga practice: balance, flexibility, strength and keeping the body agile, support ageing with grace, prevent home accidents, and increase the likelihood of living independently.  A regular yoga practice will also improve posture and breathing, sharpen the mid, enhance overall coordination, reduce stiffness and aches associated with aging and create a joyous connection to your body.
I recently spoke with a genealogy nurse who stated unequivocally that the ability to "transfer" is what allows people to continue living at home. Here is the medical web definition:
""Transferring" is the term used for moving from one condition to another, such as out of a bathtub, chair, or car, or getting into bed. The ability to transfer depends on many factors, including strength, balance, vision, and flexibility."
While you might be many years away from dealing with such concerns, now is an excellent time to be proactive and begin fortifying your health and discover more hidden benefits of a yoga practice; to stimulate your bones, your nervous system, your brain, your blood flow and your ability to deal with stress. Last but not least in a yoga practice we regularly transition from floor to sitting to standing to lying down thus practicing "transferring".
6 things to consider when choosing a yoga class:
–          Is the class geared for your ability level and pace
–          Are the poses adjusted to help you unfold or is it a one size fits all
–          Does the teacher use props, give posture modifications and individual adjustments
–          Does the class incorporate gentle breathing exercises
–          Is there sufficient time for deep relaxation at the end of the practice
–          Do you feel safe and cared for in the class
1 pose you can practice at home for balance strength and flexibility: Tree Pose (see photo below)
Testimonials: 
"After one year of yoga, I can work in the garden again, ride my horse and enjoy sitting in concerts without the sciatica pain that plagued me for 4 years." Claudette Paige, 72, retired.
When we retired in 2008, our goal was to have a full & active life and with the help of our weekly yoga class focusing on flexibility and core strength, we are able to enjoy hiking daily and travel throughout the world on some pretty rigorous excursions with energy and ease.
John and Susie Wilson, ages 64 and 68
Elke's incremental approach of easing into postures, and tailoring them to my body's needs, has greatly improved my range of motion, flexibility and confidence. Jeanne Scarmon.
I have benefited greatly from yoga in terms of mental and physical well-being and often recommend it to my patients. Dr. George Scarmon
"There came a time when the risk to remain tight in the bud was more painful than the risk it took to blossom." Anais Nin
Article written by Elke Brown, E-RYT-500, director of Full Life Yoga Studio, Nevada City
The Union article Ready for Life?  Sept., 2013
http://www.theunion.com/news/8110419-113/yoga-beesley-girls-class
World's oldest yoga teacher Tao Porchon-Lynch at 93
http://www.bbc.co.uk/news/world-us-canada-18068548
Believe in yourself!
http://www.youtube.com/watch?v=qX9FSZJu448&sns=em
Cure for Alzheimer's?
Coconut oil watch to the end – A Real Eye Opener!
http://www.cbn.com/media/player/index.aspx?s=/mp4/LJO190v1_WS
The Union interview with Elke Brown Jan.25, 2012
http://www.theunion.com/article/20120125/NEWS/120129877&parentprofile=search
Heart Attack and water…
 A doctor was asked why do we and other people urinate so much at night time.
Answer from this cardiac doctor was gravity holds water in the lower part of your body when you are upright. When you lie down and the lower body (legs and other things) seeks level with the kidneys it is  then that the kidneys remove the water because it is easier. This then ties in with the last statement! You need your minimum water to help flush the toxins out of your body!
Correct time to drink water… Very Important.  From A Cardiac Specialist! (keep reading)
Drinking water at a certain time maximizes its effectiveness on the body:
2 glasses of water after waking up – helps activate internal organs.
1 glass of water 30 minutes before a meal- helps digestion.
1 glass of water before taking a bath – helps lower blood pressure.
1 glass of water before going to bed – avoids stroke or heart attack.
The physician said that water at bed time will also help prevent night time leg cramps. Your leg muscles are seeking hydration when they cramp and wake you up with a Charlie Horse.
Video on "Fuzz" -what happens to your muscles while you sleep
http://www.youtube.com/watch?v=_FtSP-tkSug
Nutrition video – how to heal yourself!
http://www.youtube.com/watch?v=KLjgBLwH3Wc&list=PLBFE485E1A78F887F&feature=mh_lolz
Link for a vest if you have or are at risk for osteoporosis and your body is less 120 pounds
The Union article on Nutrition, Yoga, Lifestyle by Elke Brown and Katie Carter
The Union article Nov. 8, 2011 http://www.theunion.com/article/20111108/FEATURES/111109817/1027&parentprofile=1057
Mudras help stimulate body and brain pathways
By Deanna Figureira, published in the Union, February 2017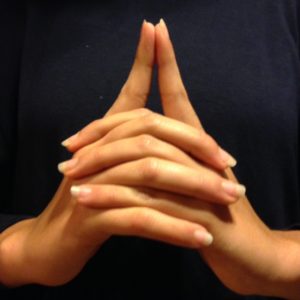 "Stimulate your body and brain pathways by practicing ancient hand seals called mudras."
In times when we are keenly aware of cognitive disease such as Alzheimer's, the practice of yoga mudras can offer some help.
Hasta mudras are believed to facilitate healing and meditation and to affect the flow of energy in the body. The word mudra means "seal" or "gesture" while hasta means "hand." The term refers to the spiritual gestures and energetic seals used to stimulate different parts of the body and normally used in conjunction with pranayama – a practice of controlling the breath.
By bringing our hands and fingers into different positions, we can influence our health, increase our sense of peace and contentment, reduce fear, and enhance our energy.
Each finger corresponds to an element; thumb-fire, index finger-air, middle finger-akasha or ether, ring finger-earth, and the little finger-water. Additionally, the thumb represents universal consciousness and the index finger individual consciousness so that when we bring the fingers into "Om" mudra, we are connecting individual and universal consciousness as well as uniting the elements of fire and air, and potentially relieving stress and migraines, releasing anger, sharpening memory and concentration, and increasing knowledge.
(To form "Om" mudra, bring your index finger and thumb together to lightly touch while the remaining three fingers are extended)
Other benefits of mudras are to increase and maintain flexibility in the hands and fingers and to bring balance to the elements (represented by your fingers) and therefore to the body for greater health.
Try it: Sitting comfortably with your spine lengthened and shoulders relaxed, bring your hands into "Om" mudra while resting on your knees.
Deepen and slow your inhalations and exhalations. Visualize your breath entering and leaving your body. As things come up to distract you – thoughts, sounds, smells, sensations in your body, observe them, and bring your attention back to the breath. See if you can count five breaths with your mind visualizing the breath. Do this at least once a day – twice if you can – and see if you don't feel more peaceful, less stressed, and maybe a bit more content.
In TriYoga, mudras are one of the three parts that make up the trinity of the hatha yoga practice – asana, mudra, and pranayama.
To learn more, join Deanna on Tuesday mornings, 8:30-9:45 for a gentle TriYoga class at Full Life Yoga Studio in Nevada City. www.fulllifeyogastudio.com.
Article: http://bit.ly/2lu0l0s
Relax into self-care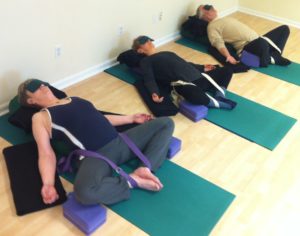 By Marianne Reagan, published in the Union February 2017
My little granddaughter is singing "Let it go" as I mop up the remains of our tea party. Crumbs litter the carpet, spilt milk is dripping down the table leg and the carefree little one is still belting it out. I grumble as I pull out the vacuum and my husband walks by saying "Just let it go!"
Seems like everyday we're encouraged to relax, let things drop, or let it go. If only we would take it to heart. Stress does not serve us. Our lives would become much easier if we cultivated the attitude of investing in our relaxed selves. We are constantly over-extending, striving towards goals, creating unnecessary urgency in our lives. We live in a go-go-go world – we've even invented a new word for relaxing…self-care. Another thing to add to the to-do list, some new skill to acquire, something else to squeeze into our overloaded schedules.
Self-care needn't be a chore, it's a treat. Delight in a time-out from the everyday world, an opportunity to reconnect and renew yourself. Here are some simple ideas for reenergizing and revitalizing your life.
Move that body, heal that body. Get yourself going in a way that makes you want a repeat experience. Take a hike, hit a ball, dance to the radio. Any way you do it, just move it!
Nourish yourself with healthy food. Fix a rainbow plate. Let mealtimes be relaxed, not rushed. Support your immune system with tonics and teas.
Pamper yourself It needn't be costly to be luxurious. Try some simple pleasures like a nice bubble bath, a candlelit dinner, a sunset stroll. Trade a massage, spend time connecting with friends.
Relax deeply with restorative yoga. Maybe you've seen an image of a blissed out body draped over bolsters, supported by blankets, eyes gently covered by a mini-pillow. Probably there was a slight bit of drool escaping the gently parted lips! This guided journey into deep relaxation leaves you feeling refreshed and revitalized. Your sympathetic nervous system calms from the "flight or fight" mode and releases you into deep rest.
My granddaughter and I wiped up the spilt milk, brushed the crumbs and licked the jam from our fingers. Now it's time for a nice hot bubble bath and a cozy cuddly nap! Slowing down and creating opportunities for letting go is a worthwhile habit to cultivate. May you find some quiet and restful moments for yourself.
Join Marianne for Restorative Yoga at Full Life Yoga Studio on January 20th, 3:30 – 5:00 pm. Restorative Yoga classes are third Friday of the month, from 3:30 – 5:00 pm. Marianne also offers Iyengar yoga with a special class for beginners and Yo-Toddler! For more information, visit www.fulllifeyogastudio.com. Full Life Yoga Studio is located in the Providence Mine Business Plaza on Providence Mine Road.
Article: http://bit.ly/2j2uf7H