Tracy Lease, Director of Full Life Yoga Studio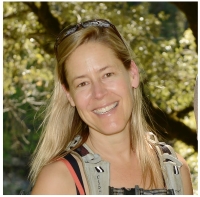 Tracy Lease, the director of Full Life Yoga Studio, completed her original yoga teacher training with Todd Norian and Anne Greene who have been both Kripalu and Anusara Yoga teacher trainers. Tracy, loving different insights into yoga, has studied with a variety of Anusara, Iyengar, Yin and Ashtanga teachers including Sundari Lucey and Lynne Minton. As a Montessori middle school teacher, Tracy taught both yoga and human body to her students, using yoga to help students identify muscles and bones, fascia, and to feel into their respiratory and circulatory systems. Tracy has been teaching yoga since 2005 in her elementary and middle school classrooms, at the University of Alaska, Fairbanks, in studios in Alaska, Idaho, Wyoming, and California and at Esalen Retreat Center on the Big Sur coast.
One of Tracy's greatest teachers has been her own body. Discovering structural scoliosis in high school due to extreme pain, Tracy has been working with two extra vertebrae and four curves in her spine most of her life. Her spine led her to Pilates where she learned to integrate limbs and work from the core of her body, a lengthened and strengthened spine during her Classical Pilates certification. Tracy also had extra bones in her feet which were removed in 1979. She has worked hard to bring back natural muscular strength in her arches and awareness in her feet. Tracy's experiences with her spine and feet help her to have empathy for students and their body challenges.
Tracy loves alignment and feels that when students find it, they feel internal music—like fine-tuning a radio antennae, the body can move past the static to pure sound. Tracy revels in helping students find the music.
I love both yoga and teaching. I think of our yoga practice as an exploration, a way to know ourselves more fully. Yoga is play, adventure, and study and offers freedom, awakening and joy. I would like everyone to experience safe, alignment-based yoga and the healing and contentment I have found in the practice.