Kate Flore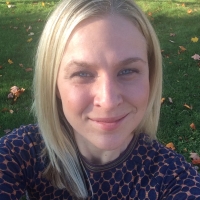 Kate Flore, MPH is a health educator and neuroperformance specialist. She received her Master's degree in Health Behavior Research at the University of Michigan and clinical training at the National Institute of Health. Her experience as a professional road cyclist has fueled her interest in human performance, habitual vs. skilled movement, and vitality. Her studies in the science of brain plasticity and neuromovement have led her to advanced training in the Feldenkrais Method and Cortical Field Re-education.
Kate observes "many of us, while favoring habitual movement patterns, have developed an imbalance in our relationship with tension, often leading to compensation and uneasiness in our bodies. Learning how to increase differentiation in our movement can enhance performance and possibility." Kate's work uses the sensory motor cortex to increase kinesthetic perception, identify habitual patterns, create new learning, upgrade movement and enhance performance.
Kate maintains a private clinical practice specializing in neuroperformance and teaches courses for health care professionals on the therapeutic use of self. Her clients range from high performing adults to children with special needs. She is available for private sessions, group classes, and workshops.
You can contact Kate via email or phone, katherineflore@gmail.com or 202-247-5484.
To learn more about the Feldenkrais Method and Neuromovement: