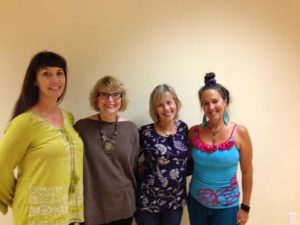 Good Karma Yoga raising funds for Purdon Crossing Porta Potties
The mission of Friends of Purdon is to inspire the conservation of the South Yuba River watershed and promote the healthful use of the river for generations. Friends of Purdon provides and maintains 4 portable toilets at the Purdon Crossing trailhead, leads volunteers in garbage removal, and encourages community awareness of the need for sanitary and fire safe habits at the South Yuba River.
A yoga class open to every age, body type, and ability level.
Cheryl Gordon, Marianne Reagan, and Wendy Beesley will teach on a rotating schedule,
All teachers focus on alignment, balance, and flexibility. Props and pose progressions are offered so you can receive the full benefit of the practice. Join us to strengthen your body, soothe your soul.
Cost of each class is donation based. Suggested donation is $10 but no one will be turned away. In the last quarter we raised $503 for BYRLT.
All funds raised during January, February, and March will go to DVSAC.
For further information contact Cheryl Gordon 530-477-8428