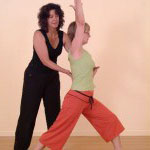 Yoga For Every Body: With a clear state of attention, we start the classes by exploring the movement and patterns of our breath. As we start to let go of the daily activities and the mind begins to relax and we release often secretly held tension from the body-mind. Now we can start to work on deepening the stretches, improving balance, building core tone and resilience. The classes become a journey of learning, self-discovery, and body-mind awareness to live our lives with ease and well-being.
Based on the teachings of B.K. S. Iyengar and Vanda Scaravelli.
Drop-ins are $17, 4-class passes are $56, and 10-class passes are $130.