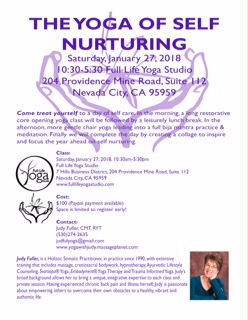 Come treat yourself to a day of self-care. In the morning, a long restorative core opening yoga class will be followed by a leisurely lunch break. In the afternoon, more gentle chair yoga leading into a full bija mantra practice & meditation. Finally, we will complete the day by creating a collage to inspire and focus the year ahead on self-nurturing.
Pricing:
(Paypal payment is available)
For more information contact Judy Fuller @ 530-274-2635 or judfulyoga@gmail.com.
A recent article on Judy Fuller from Firefly Yoga International:
(http://www.fireflyyoga.org/blog/firefly-trained-yoga-teachers-affect-change-across-the-country)